MID WEEK BLAST!


★★★ NEW RELEASE ★★★
WRAPPED IN PERFECTION, the 6th book in the It's Complicated Series by Maggie Cole is NOW AVAILABLE!!

FREE in KU!
Amazon US: https://amzn.to/3mwN7MG
Amazon UK: https://amzn.to/37Pc5Tf
Amazon CA: https://amzn.to/3kJASMk
Amazon AU: https://amzn.to/3jFdgqF
Blurb:
Dmitri Ivanov is determined to repair every broken piece of me...
My battered body healed. My heart hasn't. Everything my ex convinced me to hate about myself, Dmitri turns upside down.
From day one, he requires my commitment to him—including my full trust.
In return, he claims he's giving his to me.
But the element of danger Dmitri gives off, isn't just in my head. He's involved in things. His past isn't buried so deep it never re-appears. And the thing he hates most about himself, I should run from.
It only binds me closer to him. And the person I'm changing into won't let him discard me—even if he says it's for my own good.
"Wrapped In Perfection" is the sixth installment of the "It's Complicated" series. It is a billionaire love story with a mafia twist and has a HEA. Trigger Warning: This book may trigger survivors of domestic violence.



★★★ TEASER REVEAL ★★★
DOOR OF BRUISES, the 4th book in the Thornchapel series from Sierra Simone is coming November 30th!!

PREORDER:
Amazon: https://amzn.to/34YNrfL
Amazon INTL: mybook.to/doorofbruises
Apple Books: sierrasim.one/applebruises
Nook: sierrasim.one/nookbruises
Kobo: sierrasim.one/kobobruises
Blurb:
Twelve years ago, our fates were sealed with a kiss.
We are all, for better or worse, doomed to love each other until death do us part. My heart belongs to Proserpina and St. Sebastian—even if he no longer wants it. Even if she has left it behind to follow him.
Delphine's fled back home, and Becket's holy calling is in peril.
And now only Rebecca and I remain at Thornchapel to face the unknown.
The door is open. The door that shouldn't exist; the door that people have died to close. I don't feel like the lord of the manor...I don't feel like a king or a wild god. I am a friend and a boyfriend and a brother—and a failure at being all of these things. But the door doesn't care about my guilt. It only cares about the sacrifice I'll make to close it.
As the bruising dark of Samhain approaches, so does the fate of our circle, of Thornchapel and the village and the valley beyond it. And I must don the crown, because one thing is still true, even if I must face it alone.
Here at Thornchapel, the kings must go to the door.
Here at Thornchapel, all kings must die.




★★★ TEASER REVEAL ★★★
VIOLENT BEGINNINGS by JL Beck & C. Hallman is coming November 28th!!

PREORDER TODAY!
AMAZON US: https://amzn.to/37kbQiO
Blurb:
The deal was sealed the moment she stepped onto that stage.
It was like seeing a ghost. Sunshine blonde hair, pale skin, and azure eyes that held a thousand secrets.
I didn't know what caused her to end up on that auction block.
And I didn't care either.
All I knew was that I had to have her…no matter the cost.
One-million dollars later and she became just that.
Mine to break.
Mine to use.
Mine to keep.
But we all have secrets and when I discover hers no one will be able to save her from me.




★★★ EXCERPT REVEAL ★★★
NOT MY HERO by Michelle Heard is coming November 9th!!
Read an Excerpt Here: https://wp.me/pax1MW-2VB
Add to Goodreads:
https://www.goodreads.com/book/show/48578538-not-my-hero
Blurb:
He walked into school on his first day and didn't care what the other students thought of him.Dark. Broody. Dangerous.
He didn't care where I cared too much.
Then the rumors started.
He failed his senior year at his previous school. His brother committed suicide. It's his fault.
And for one blessed week, I wasn't the topic of discussion.
You see, I'm the daughter of a socialite who has no soul. I'm the one paying for her sins. They never let me forget where I come from, and she never stops telling me what a failure I am.
But then Colton Lawson looks at me, and unlike the other student's, his dark gaze seems to see through the lies spun around me.
He starts appearing out of nowhere, fighting my battles for me only to stalk away, making me feel like I'm nothing but a nuisance.
My name is Brie Weinstock, and this is my story of how a boy walked into my hell and fought for me, even though I never expected him to.
The question is, am I strong enough to repay the favor?
This is a high school romance that deals with sensitive subjects. Adult readers only.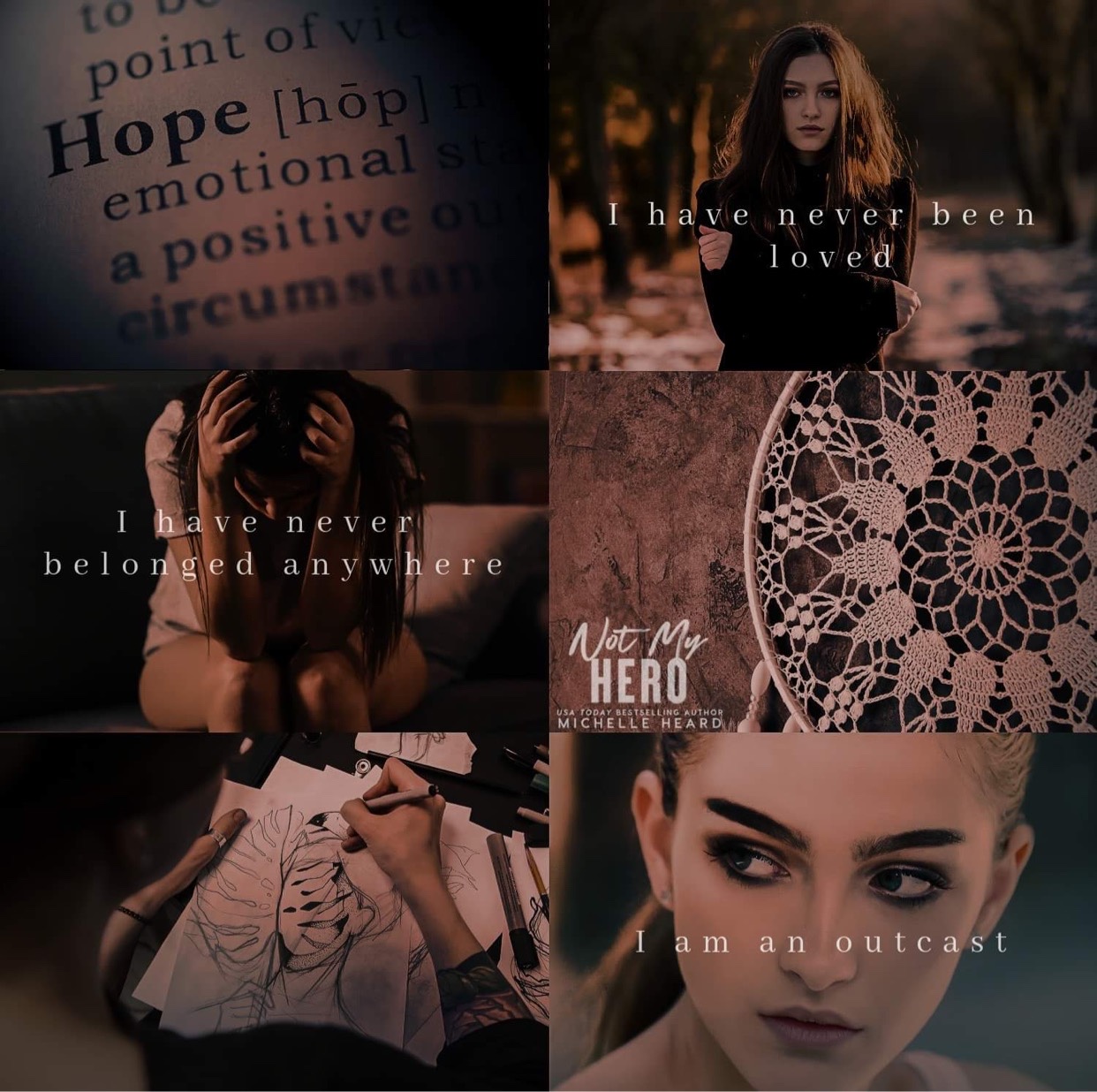 ★★★ NEW RELEASE ★★★
TAKE THE CHANCE is NOW AVAILABLE!!
Top Shelf Romance is bringing you the best modern classics of romance in Collection #9, TAKE THE CHANCE, featuring FOUR bestselling books from authors: Brittainy Cherry,
Melanie Harlow, Emma Scott, and Helena Hunting!

FREE in Kindle Unlimited!
Amazon US: https://amzn.to/2HXpyOl
Amazon UK: https://amzn.to/3oPB6Ui
Amazon AU: https://amzn.to/2HWM4GG
Amazon CA: https://amzn.to/3oKw8IF

Blurb:
Just kiss him.
Just love him back.
Take the chance.

Take the Chance is a collection of four romances, you'll be glad you devoured. Over 800 pages and 4 standalone novels that readers can't stop talking about.

The four best-selling novels included are:
The Gravity of Us by Brittainy Cherry
After We Fall by Melanie Harlow
Forever Right Now by Emma Scott
Pucked Love by Helena Hunting

Top Shelf Romance represents the best of the best in romance. There are no cliffhangers. These are simply must-read novels for readers looking for the best in happily ever afters.





Top Shelf Romance represents the best of the best in romance. There are no cliffhangers. These are simply must-read novels for readers looking for the best in happily ever afters.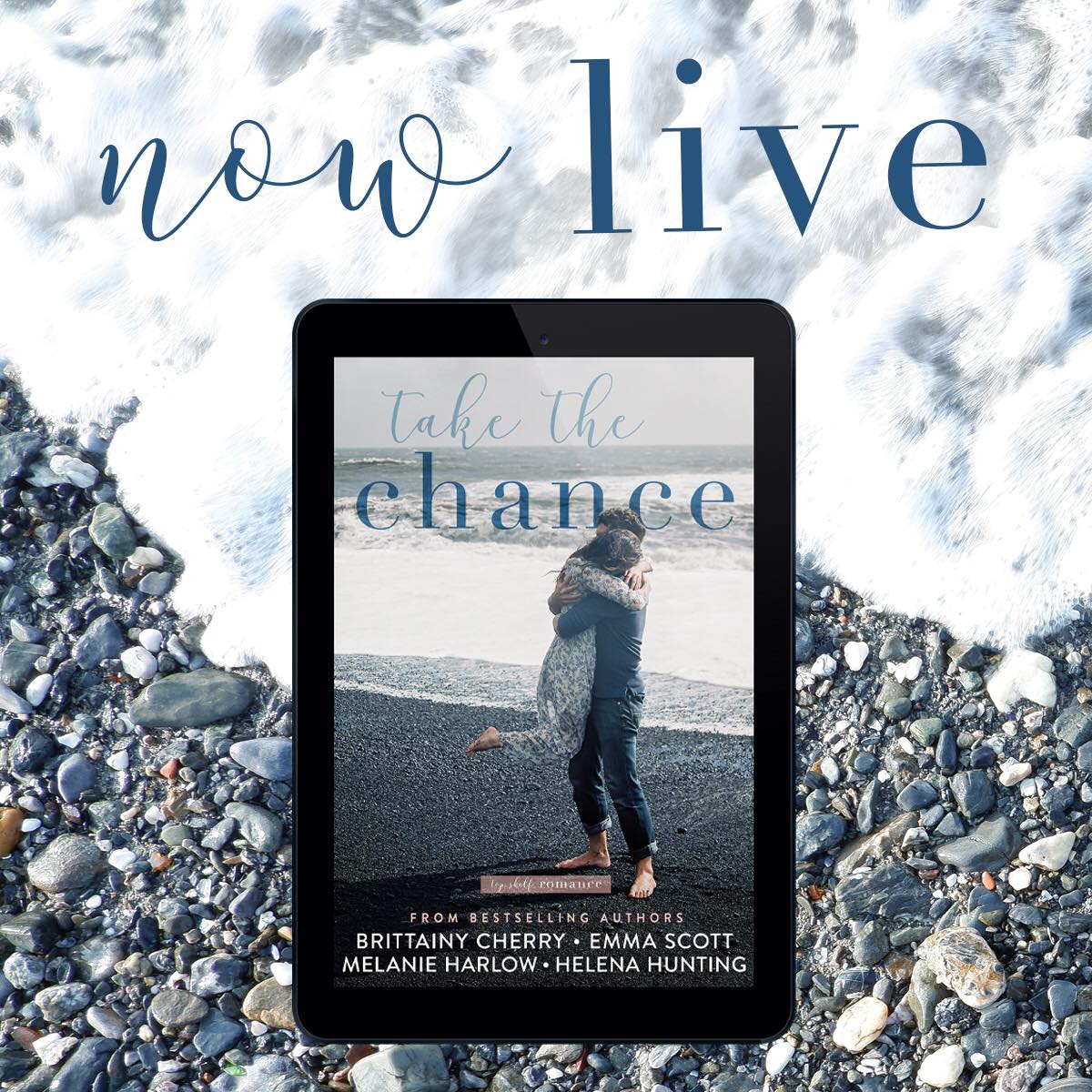 ★★★ TEASER REVEAL ★★★
IGNITE, the 4th book in the Disciples series from Cassandra Robbins is coming November 18th!!
Genre: MC Romance
Add to Goodreads:
https://www.goodreads.com/book/show/50656472
START THE SERIES TODAY!!
https://amzn.to/3iTgtlZ
Blurb:
ANTOINETTE
Axel Fontaine has a giant…
At least that's what everyone says. Unfortunately, it's true.
All. Of. It.
He's dangerous, scary, and addictive. Without a doubt, the last person I should fall for is the VP of the Disciples MC.
I'm out of my league.
He's a six-foot-four, blue-eyed biker god.
I'm an ex-ballerina turned stripper who should run away.
But how do you escape the one man who ignites your body and consumes your very soul?
Axel doesn't do relationships. But I'm betting on ME to change his mind.
AXEL
I don't do relationships. I don't do drama, and I definitely don't do love.
I'm not Prince Charming. I'm the VP of the Disciples and the club is my family.
The last thing I need is a violet-eyed enchantress who smells like candy and has some sort of voodoo chemistry that's messing with my mind.
She needs to go.
She's a distraction…a weakness I can't have.
Men like me fall in lust, not love.
So, why is she still here?
★★★ NEW SERIES ANNOUNCEMENT ★★★
Best-selling authors Meghan Quinn, Adriana Locke, and Ilsa Madden-Mills deliver three stand-alone romances about college football players finding true love while on the verge of losing everything.
Look for the cover reveal for all three books in the KINGS OF FOOTBALL series on November 18th!!
The Revenge Pact by Ilsa Madden-Mills Releases December 3
Add to GR: https://www.goodreads.com/book/show/55809481-the-revenge-pact
The Romantic Pact by Meghan Quinn Releases December 10
Add to GR: https://www.goodreads.com/book/show/54451134-the-romantic-pact
The Relationship Pact by Adriana Locke Releases December 17
Add to GR: https://www.goodreads.com/book/show/55171041-the-relationship-pact